by Matt DeFaveri
"I just want to spend time with my children."
"Seriously, don't get me anything."
"Your company is more than enough."
Uh huh. Don't buy the lie, folks. Sure, maybe it's been a while since you've seen your momma, and yeah, maybe she doesn't want anything from you. But are you even sure your company's all that great? While you mull over that terrifying thought, take a peek at some of these brunch recipes below.
Declared an official U.S. Holiday in 1914, Mother's Day branding has quickly adopted brunch as its main selling point for celebrating the matriarchs of the world. Let's be real here: your mother went through childbirth so you could enjoy life on this planet. If that didn't kill her, a little kitchen time won't kill you. Just keep all appendages inside the ride at all times, unobstructed from your knife's chopping path and you'll be golden.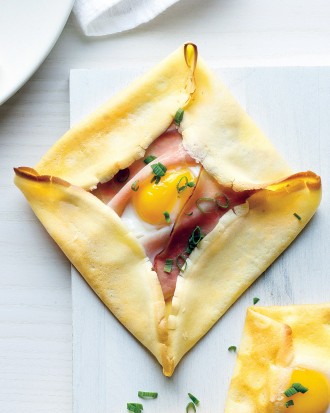 Turkey and eggs are a breakfast staple – placing them in a fancy crepe is just icing on the cake, figuratively speaking. Give your mom even more to be proud of when you whip up this quick and easy brunch recipe
INGREDIENTS
4 Simple Crepes
8 slices turkey bacon
4 large eggs
Coarse salt and ground pepper
Chopped fresh chives
DIRECTIONS
Preheat oven to 350 degrees. Place 4 crepes on a rimmed baking sheet. Place 2 slices turkey on each crepe. Crack 1 egg into center of each; fold edges toward center. Season with salt and pepper. Bake until egg white is set and yolk is still runny, 12 minutes. Top with chives.
Recipe adapted from www.marthastewart.com
Ask any of my friends: I love making appetizers with crostinis. Some people think it's the only thing I cook (but they're wrong). These tartines feature the same toasted goodness of a crostini with the savory combination of Dijon mustard, pancetta, spinach and cheese. Bon appetit.
INGREDIENTS
4 ounces pancetta, cubed
1 9-ounce package spinach
4 slices sourdough bread, toasted
2 teaspoons Dijon mustard
4 ounces Comte, Emmenthaler, or Gruyere cheese, shredded
DIRECTIONS
Heat the broiler.

Cook pancetta in a medium skillet over medium-high heat until crisp, about 2 minutes. Add spinach and cook, stirring occasionally, until just wilted, 1 to 2 minutes.

Spread ½ teaspoon mustard on each slice of toast. Top each with the pancetta and spinach mixture. Scatter the shredded cheese on top.

Transfer the toasts to a baking sheet and broil until the cheese has melted, about 2 minutes. Serve warm.
Recipe from www.realsimple.com.
This classic breakfast mainstay is jazzed up with smoky, salty lox and peppery arugula. Just don't make your frittata in a saucepan, OK? This isn't prison.
INGREDIENTS
8 egg whites, at room temperature
1/2 cup whipping cream
6 ounces lox, chopped into 1/2-inch pieces
1 lemon, zested
1/2 teaspoon kosher salt
1/2 teaspoon freshly ground black pepper
2 tablespoons olive oil
2 packed cups (2 ounces) arugula
1 clove garlic, minced
DIRECTIONS
Put an oven rack in the center of the oven. Preheat the oven to 350 degrees F.

In a medium bowl, whisk the egg whites until fluffy, about 30 seconds. Add the cream, lox, lemon zest, salt, and pepper.

In a 10-inch, ovenproof, nonstick skillet, heat the oil over medium heat. Add the arugula and garlic. Cook, stirring frequently, until the arugula has wilted, about 1 minute. Pour the egg mixture into the pan and stir to combine the ingredients. Cook, without stirring for 4 minutes. Transfer the skillet to the oven and bake until set, about 10 to 12 minutes.

Slide the frittata onto a platter. Using a serrated knife, cut the frittata into wedges and serve warm or at room temperature.
Recipe by Giada de Laurentiis from www.foodnetwork.com.
They're not the most exciting pancakes in the world, but this short stack is a simple, healthy and delicious start to any morning. Plus, your mom is legally required to tell you how wonderful and amazing they are if for no other reason than you, her offspring, cooked them.
INGREDIENTS
1 1/2 cups old-fashioned oatmeal
1 1/2 cups whole wheat flour
2 teaspoons baking soda
1 teaspoon baking powder
1/2 teaspoon salt
1 1/2 cups buttermilk
1 cup milk
1/4 cup vegetable oil
1 egg
1/3 cup sugar
3 tablespoons chopped walnuts (optional)
DIRECTIONS
Grind the oats in a blender or food processor until fine. In a large bowl, combine ground oats, whole wheat flour, baking soda, baking powder, and salt.

In another bowl, combine buttermilk, milk, oil, egg, and sugar with an electric mixer until smooth. Mix wet ingredients into dry with a few swift strokes. Stir in nuts, if desired.

Lightly oil a skillet or griddle, and preheat it to medium heat. Ladle 1/3 cup of the batter onto the hot skillet; cook the pancakes for 2 to 4 minutes per side, or until brown.
Recipe from www.allrecipes.com.
There are no apples, bottoms or jeans here. No boots. No fur. Just blueberries, french toast and homemade syrup. Serve with a waiter's napkin draped over your arm – maître d style – to round out the cultural experience.
INGREDIENTS
8 eggs
1/2 cup plain yogurt
1/3 cup sour cream
1 teaspoon vanilla extract
1/2 teaspoon ground cinnamon
1 cup 2% milk
1/3 cup maple syrup
1 loaf (1 pound) French bread, cubed
1-1/2 cups fresh or frozen blueberries
12 ounces cream cheese, cubed
Blueberry Syrup
1 cup sugar
2 tablespoons cornstarch
1 cup cold water
3/4 cup fresh or frozen blueberries, divided
1 tablespoon butter
1 tablespoon lemon juice
DIRECTIONS
In a large bowl, whisk eggs, yogurt, sour cream, vanilla and cinnamon. Gradually whisk in milk and maple syrup until blended.

Place half of the bread in a greased 5- or 6-qt. slow cooker; layer with half of the blueberries, cream cheese and egg mixture. Repeat layers. Refrigerate, covered, overnight.

Remove from refrigerator 30 minutes before cooking. Cook, covered, on low 3-4 hours or until a knife inserted near the center comes out clean.

For syrup, in a small saucepan, mix sugar and cornstarch; stir in water until smooth. Stir in 1/4 cup blueberries. Bring to a boil; cook and stir until berries pop, about 3 minutes. Remove from heat; stir in butter, lemon juice and remaining berries. Serve warm with French toast. Yield: 12 servings (2 cups syrup).
Recipe from www.tasteofhome.com.