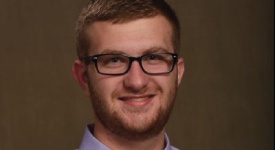 Hey Now! is excited to continue to bring new skills and specialties to our team. We have a constant focus on identifying client needs and providing dynamic solutions. As a company, this help us stay agile and relevant- always looking forward.
Tyler's primary focus is on paid advertising through Google, Facebook, Pinterest, LinkedIn, YouTube, and more. He is constantly updating his certifications and adding additional focuses as the digital landscape changes.
"Adding Tyler to our team has taken our paid advertising ability to the next level," said Hey Now! Media owner and strategist Matt Soble. "His execution on campaigns drives real results that have created an immediate impact for our clients. We are excited to have him on board!"
When asked about his role Tyler offered, "I like doing what I do because I find it fascinating to see people's purchasing patterns." Tyler has always had a knack for numbers and really enjoys the analyzing part of his role. He is adept at taking raw data and helping it tell a story, offering meaningful insights on how to push creative, keywords, and audience selection further and with more precision to drive better results. It's the kind of role that is never stagnant, to which he said, "It allows me to be agile and grow as the digital environment grows and changes, which keeps things fun and interesting!"
Want to hire Tyler to run your company's AdWords and paid media efforts? Click here to schedule a consultation with our leadership team and see where your paid advertising has opportunities to improve.
{{cta('82a562cb-cccc-4093-a1de-56e0ef304d71′,'justifycenter')}}