When we were approached by Steve and Kathy Kaplan to rebrand their 80 year old family furniture store they wanted it to represent them- a hardworking family, who cares about their community, gives back, and lives side by side with the customers they see in the store. They didn't view themselves as a luxury brand, but really hung their hat on providing value. When you call you could very well talk to Kathy, or one of their 4 kids – they very much stand behind what they sell and the emphasis on quality in a big box world. Community, quality and value were the key differentiators that separated them from the competition.
Armed with what the Kaplan's felt makes them great, we set to research the market and combine their perceived strengths with all the changes and new ideas in the industry. Our overall goal with the Kaplan's Furniture rebrand was to build brand awareness, differentiate them from the competition both locally and nationally, and create a targeted one of a kind experience that builds long-term customer retention.
How do we do it? We employed a number of strategies to reach our goals.
Strategies that worked to build brand awareness:
– Reintroducing the throwback Kaplan's logo we found in the archives, but give it a modern twist. They had changed the logo several times over the years and we wanted to harness some of the brand equity built into the early years while also creating a bit of nostalgia. A brand that straddles the line between a long history that brings decades of experience, and stores that carry fashion forward and functional furniture that feel modern and fun.
Before:

After:

Strategies to differentiate them from the competition both locally and nationally:
– Highlight the story and history and use it to enhance the brand. This route really focuses on showing experience. This route really focuses on showing experience. The furniture market is competitive and saturated. Kaplan's 80 years in business gives them an edge, and we wanted to pull this out to bolster the brand.
Here's an example of in-store coasters: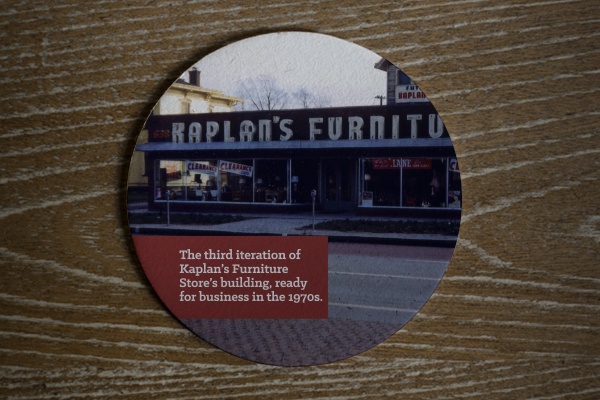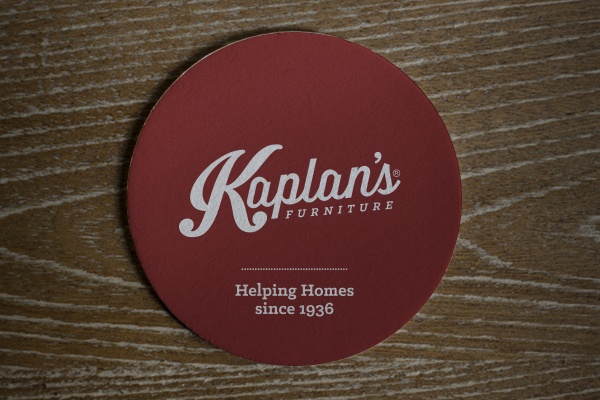 – Showcase the "good-better-best" concept. Kaplan's has a unique buying philosophy and provides their customers with 3 levels of options they refer to as "good-better-best". Highlighting this business concept in the brand helped elevate our goal of differentiating them from their competitors. The tiered pricing structure is intended to help customers find different options at different price points. It is the commitment to helping people find something they love, while never compromising quality.
Strategies to address our goal of creating a targeted one of a kind experience that builds long-term customer retention:
–Emphasize a warm, welcoming, personable, family vibe while interacting with any touch point associated with the brand. This strategy was especially important in the execution of designing the identity.
-Create an environment where customers fall in love with the furniture and truly can see themselves in it. Through this strategy we thought about the organization of the store, signage, and how everything on the floor can add to the buying experience.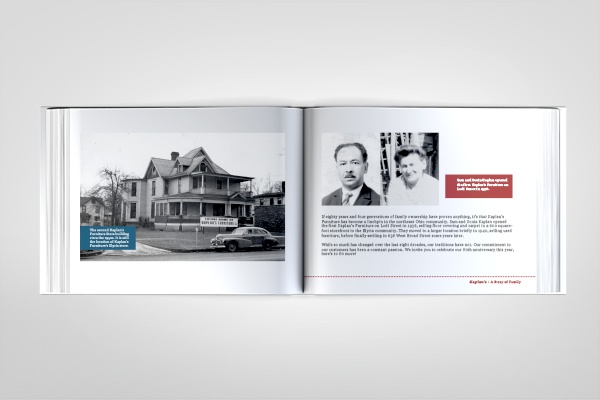 -Have event based promotions. This was a Kaplan's staple since the store opened. In one photo from the first store we saw a live elephant! Incorporating fun ways to get people in the door is not only very in line with their brand, but incorporates their locality, and willingness to do things different, in all areas.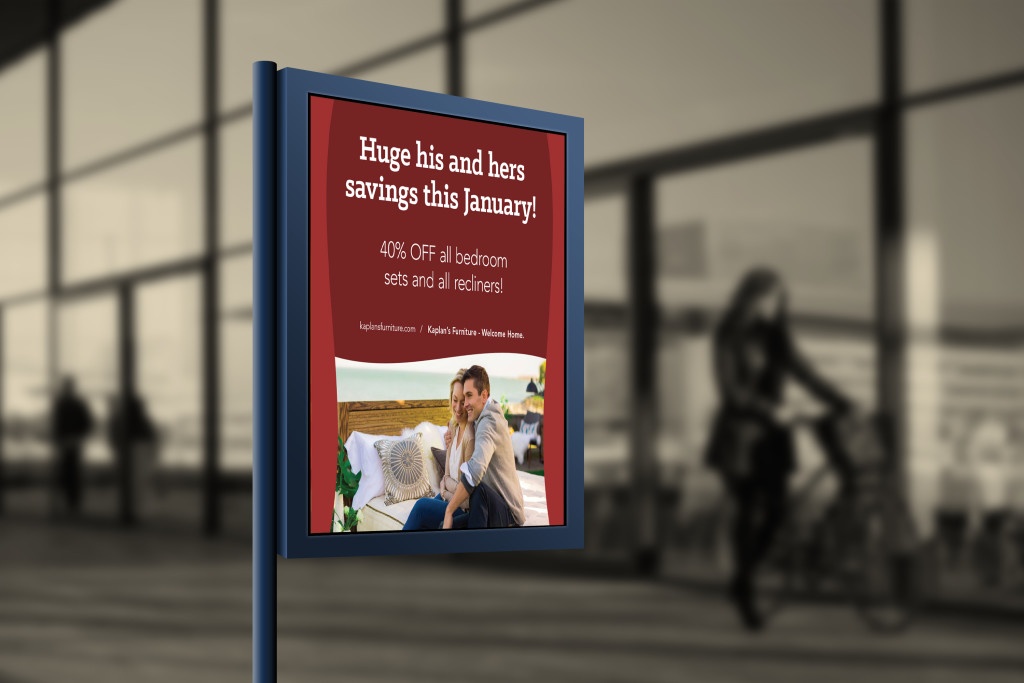 This is just a snapshot into the Hey Now! process for the Kaplan's Furniture rebrand. As a result of the new branding and marketing materials we created, Kaplan's has seen exceptional growth in just a few months.
Since Hey Now! Started
Page Views: 89,903
Unique Page Views: 59,754
Bounce Rate: 30.66%
Exit Rate: 11.5%
December 2015
Page Views: 44,150
Unique Views: 27,185
January 2016
Page Views: 45,753
Unique Views: 32,569
---
You can see more of our work here: heynowmedia.com/portfolio and stay tuned on the blog to learn a bit more about what goes on behind the scenes when we build brands! If you really want to dive into the world of branding join our #30DaysOfBranding newsletter. Sign up here!
Contributors: Matt & Anne Brower, Matt Soble, Matthew Jaffe, Matthew DeFaveri, Andria Kaplan