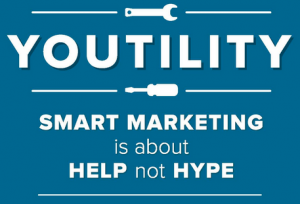 There is a new way of reaching customers in today's world and it is probably not what you're thinking. Have you ever had a problem and sought out the answer through Siri, Google, or YouTube? I'm sure if you're reading this, you may be nodding your head.
We live in a world where memorizing facts is no longer a necessity but being able to access knowledge and answers is a must. Think about your customers. Think about the product you sell or the service you offer. Think about what YOUR customers would type into Google if that product broke, the videos they would YouTube if they needed a little "how-to" help, or what Siri's response would be to their questions.
What if you could deliver ALL of the answers to your customers? Your customers would turn to you for advice in your area of expertise. This is what we call "Youtility."
"Youtility is marketing upside down. Instead of marketing that's needed by companies, Youtility is marketing that's wanted by customers. It's massively useful FREE information, that creates long-term trust and kinship between a company and its customers," says Jay Baer author of Youtility.
A great example of a business that capitalizes on "Youtility" is the local technical support service company GeekSquad. If you log on to their YouTube channel they have hundreds of thousands of views…but the crazy thing is these videos teach people how to do exactly what GeekSquad wants you to hire them to do.
Why? According to Robert Stephens, the founder of GeekSquad, their "best customers are people who think they can do it themselves. But even if they can, someday they'll be over their head, and who will they call for help?
We're betting it's the company whose logo they looked at for 8 minutes when we gave them free video help." Here at Hey Now!, we are into Youtility too which is why we are giving you resources to start practicing this marketing tactic on your own.
Follow the links below to learn more! Read Youtility, See Youtility on Slideshare, Watch Youtility on YouTube!