Hey Now! Media is so excited to welcome Callie Bumba as the newest member of the Hey Now! Team. A graduate of The Cleveland Institute of Art, Callie brings both a design and illustration background. She's worked for a number of start up focused businesses and offers this unique perspective to our multitude of start up clients. She is a thoughtful and patient designer who enjoys 90 sitcom reruns and doesn't drink coffee. Callie lives in Lakewood with her boyfriend Matt and dog Nando.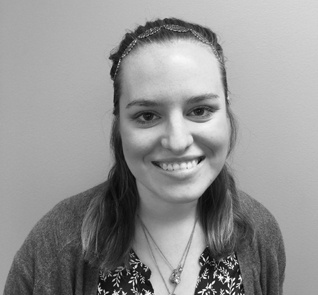 10 Things You Didnt Know About Callie
What is one of your favorite quotes?
"Quiet people have the loudest minds"
What chore do you absolutely hate doing?
Cleaning the shower/tub
What has been your proudest moment at Hey Now!?
Joining the team!
What is one thing most people don't know about you
I don't know how to swim!
Best thing about living/working in Cleveland?
The food
What is one thing you can't live without?
Having a dog
If you were a type of food, what type of food would you be and why?
Cheesecake – plain and simple
Do you have a nickname?
Just my last name, Bumba
What's the hardest thing you've ever done?
Aside from college itself, driving to and from college for 4 years – Parma to University Circle every day in rush hour.. Don't get me started.
If Hollywood made a movie about your life, who would you like to see cast as you?
Rachel McAdams or Chloe Moretz