Starting a webinar is surprisingly easy! All you need is: invitees, a webcam, some scripted content that you want to share, and the internet. However, coming up with content for your webinar can often be the tough part.
Have you decided to begin your journey in creating your own webinar? Let us be your guide in making content that your audience will love.
Types of Webinars:
Thought Leadership- This is a webinar where you position yourself as a leader in your industry. You are then able to create valuable connections, bring in a new audience, and drive new leads. The focus is around the latest trends and developments in your industry.
Lead Nurturing- This is where you use education in order to cultivate your existing relationships with your prospective audience. These types of webinars are designed specifically for those who already have an understanding of your company and what you provide.
Product Demo- This is a webinar in which you give your audience a full tour of your product from start to finish. This allows you to really go in depth and highlight the major benefits and uses of what you are trying to sell.
Customer Onboarding and Training- Onboarding really sets the tone for the rest of your client/customer relationship. A webinar allows you to interact with your customer and monitor the onboarding process from start to finish. If you have a lot of customers onboarding at one time a webinar can be a great time saving tool.
New Feature- Have a new product or service you are offering? A webinar featuring this development is a great way to generate excitement.
Have a product or service already on the market that has new or "hidden gem" features? This is a great way to display them.
Tips for Creating Great Webinar Content: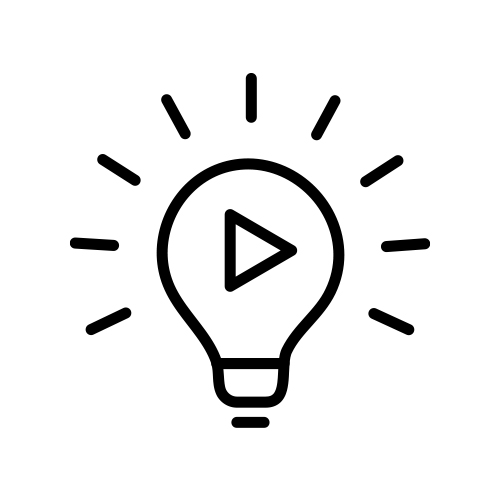 Pick a narrow topic- Don't decide on a topic that is too broad. You may find yourself getting off track, making the webinar too lengthy, or losing audience members due to disinterest. Be clear and to the point. Still stuck? Try starting a series and cutting a broad topic up into mini topics.
Decide the best format for your topic- What would be the best format for your topic? There is Interview style, a Q&A, case study, conferences, and more.
Check your equipment- Always check your microphones, cameras, powerpoint slides, and any other equipment you plan to use during your webinar prior to filming.
Practice- Don't go into your webinar without having practiced. Although you want it to feel natural and not completely scripted, you still want to have bullet points of what you plan to talk about or interview questions prepared.
Publish and promote- Don't stop after filming! Once your webinar is posted for the world to see – this is only the beginning. You now want to begin promoting using email and social media marketing tactics.
A series of webinars is a great lead generation tactic for brands looking to fill their funnel.
Ready to boost your digital engagement? We're here to help. Hey Now! Media is offering a free 30 minute consultation for any business, organization or individual wanting to learn more about digital and virtual experiences.