By: Andria Kaplan
As I walk into the office this morning I am greeted by the warm and spicy aroma of cinnamon. It is pleasant and provokes that "ahhh" feeling as I set my iced coffee down and take another whiff.
When guests come to our office they may think we are ready for winter as there are pinecones intentionally scattered all around (even on the staff).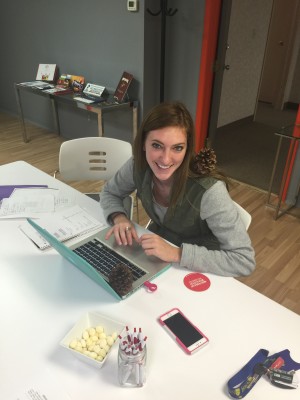 LeBron was even kind enough to hold the cinnamon pinecones for us!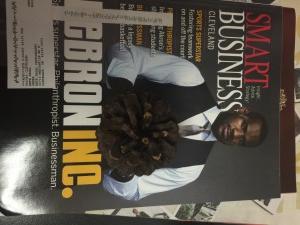 In fact, the cinnamon scent is emitting from the pinecones!
We've dubbed cinnamon the official scent of Hey Now! Media – and it is freaking amazing! However, we're not the only ones or the first to create a branded scent.
Household names like Cinnabon, Starbucks and Panera Bread constantly play on their customer's sense of smell to ensure success.
Cinnabon, a bakery chain, purposely places ovens near the front of stores to entice customers with the aroma of warm cinnamon rolls. Kate Cole, COO of Cinnabon told The Wall Street Journal "the bakeries are intentionally located in airports, not outside, so smells can linger." Cinnabon keeps the aromas wafting by baking cinnamon rolls every 30 minutes.
Similar to the Cinnabon concept, Panera Bread Co. has talked about reassigning their baking staff of 1,800 from night shifts to day shifts so the atmosphere is filled with the smell of freshly baked bread. At a test store in New Haven, Connecticut, a small show oven without a hood was installed to create the smell of freshly baking bread all day long.
In 2008, Starbucks actually stopped selling their breakfast sandwiches because Chief Executive Howard Shultz hated the smell. Shultz wrote in his 2011 book "Onward: How Starbucks Fought for Its Life Without Losing Its Soul" that the cheese engulfed the coffee aroma. In order to solve the problem, Starbucks implemented an aroma taskforce to deal with the odor problem. Seven years later and Starbucks has managed to continue selling breakfast sandwiches while simultaneously keeping their signature coffee scent. Walk into a branch this October, and see if you smell the #PSL (Pumpkin Spice Latte).
Whether you're looking to create a pleasant environment or just want to smell something nice, think about what your company's scent would be.
Think about your brand identity, marketing messages, and target audience then write down descriptive words. Utilize those words to explore and research correlating fragrances.
Hey Now!'s voice is young, fun, and lively, yet we aim to be professional but still approachable – like cinnamon. When you smell the spice of cinnamon it wakes and warms you up at the same time, reflecting professionalism and approachability in our eyes. What's your scent?