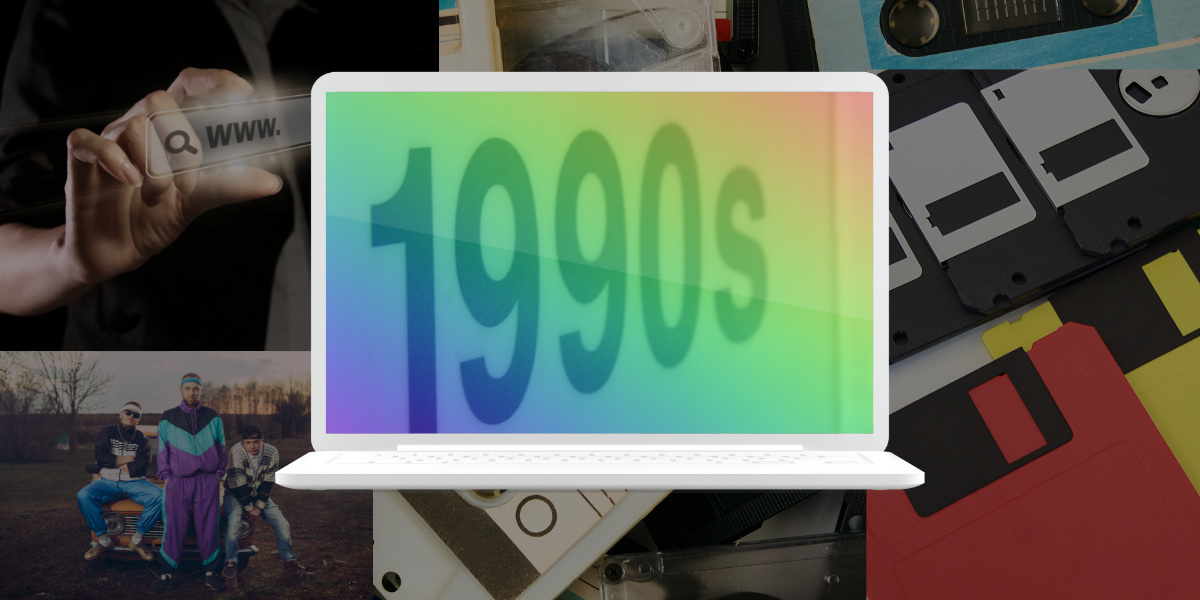 The world of website design and development officially opened its doors on August 6 ,1991, the day the first webpage ever created went live. Just 2 years later Mosaic, the first web browser, was launched and image HTML tags were introduced so web pages could include pictures.
The 90s – The Creation Stage
The 90s were explosive with technological internet firsts including the first cell phone with internet capabilities (the Nokia 9000 Communicator) and the first webmail service (Hotmail). From Napster to Yahoo!, GoDaddy, even Netflix- it's hard to believe these tools were all created in a less than 10 year span.
The 2000s – The Adoption Stage
The 2000s saw the creation of Wikipedia, Facebook, X-Box Live, iTunes Music Store, Skype, WordPress the first blog publishing platform, and Google. Our behaviors were radically changing too.
In 2005, 9% of internet users (13 million Americans) went online to donate money to the victims of Gulf Coast hurricanes Katrina and Rita, at the time, this was unheard of.  By 2007, Estonia became the world's first country to use internet voting in a parliamentary election.  By 2009, we were entrenched as 69% of Americans turned to the internet to cope with and understand the recession.  In 2011, the internet was a major player in the Egyptian Revolution with young Egyptians use the hashtags #Egypt and #Jan25 on Twitter to spread the word. This led to the Egyptian government shutting down the internet for the entire country.  By 2012 Facebook reached 1 billion monthly active users and Ecommerce sales topped $1 trillion worldwide.
Online Everything
We've transitioned to online banking, online dating, online shopping, online learning, and most recently 100% online working.  30 years since its inception, the progress of the world wide web is staggering.
"The World Wide Web has touched the lives of billions of people around the world and fundamentally changed how we connect with others, the nature of our work, how we discover and share news and new ideas, how we entertain ourselves and how communities form and function." – Pew Research Center
The Pace of Change
The changing nature of the internet and websites is inherent in the DNA of online culture and technology. These days it is how we run our businesses and generate leads. Personally, it's how we do our shopping both for essential household items and specialty purchases.  But, what if you aren't steeped in this? What if you don't understand how Google has changed their algorithms, and how to optimize your blogs for keywords? Or even how to set up an e-commerce store and provide a digital home for your business that matches the experience on the ground?  Where does that leave you?
How do companies keep up with all the changes and how do you know when to update your site and with what tools? If your website has you pondering these questions, visit our blog, we have a host of helpful articles created specifically for people asking these kinds of questions.
Check out some of our most popular website resources:
Do You Have A Top Tier Website? – Website Audit Checklist
What Qualities Make Up a Good Website?
What Happens When Someone Visits a Bad Website
Top 10 Signs You Need a New Website
7 Tips for Beginner Web Design
4 SEO Tips for Small Businesses
In the market for a new website?
Hey Now! Media seeks to develop strong, trusting partnerships with our clients. This spirit of collaboration brings the best results to the most important areas of your business.  A critical part of our process is providing education and helping you learn about all the ways we're going to help your business win online.