By: Matthew DeFaveri
Thousands of ravenous food fans flooded the I-X Center last weekend for the 10th Annual Fabulous Food Show, playing host to some of the world's greatest culinary minds and some of Cleveland's hottest culinary talent. The three-day affair kicked off early morning Nov. 13 with an uproarious cooking demo from Cleveland's own Michael Symon, setting the table for a bevy of celebrity chef appearances, autograph signings, food trucks and free samples.
Lots and lots and lots of free samples, as this writer can attest. It truly was the food geek's ultimate smorgasbord of flavor and fun. Cleveland already knew its local cuisine rocked the social media scene, but Hey Now! Media took charge of this year's #fabfoodshow social media, growing interest by more than 1,000 likes, follows and retweets.
Crowds surged Saturday, packing the various stages and theaters sprinkled throughout the venue. Seats filled up quickly in the Giant Eagle Market District Theater to see Buddy Valastro of TLC's Cake Boss, celebrity chef Aarón Sanchez and Jason Roberts of NBC's Rachael Ray Show.
While celebrity chefs dominated much of the attention, appearances by native Clevelanders like Symon and 2015 James Beard award winner Jonathon Sawyer made for a nice local twist in an otherwise geographically-diverse affair.
Throughout the day, ongoing demonstrations peppered the Cleveland.com "Taste of the Neighborhood" nook, a small 50-seat area that bordered the food truck alley. Just around the corner, comedian and foodie Mark DeCarlo kicked off a live podcast with his wife, Yeni Alvarez.
That was followed shortly by Michael Symon's Block Party which raged into the night. Symon scored big with the guests handing out delectable kielbasa sandwiches from Tremont hot spot Lolita, while dishes like salmon nachos satisfied more peckish attendees, who toe-tapped to newgrass tunes by Cleveland-based trio Honeybucket.
As is always the case with a bevy of food to devour, Saturday's high turned into Sunday's food coma.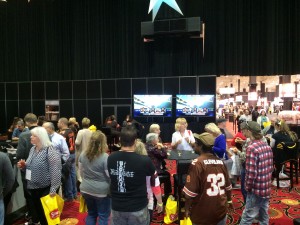 Guests strolled casually through the vendor booths, inviting a more casual atmosphere than Saturday's frenzy and giving Cleveland's foodies some much needed downtime. Morning melted into afternoon and crowds flocked to the East Lobby to catch the Browns-Steelers game with Michael Symon, who'd already shed his apron and donned his Browns beanie in support of his hometown team.
Though the Browns lost, food fans won big at his year's Fabulous Food Show. Plus – what the old Browns fan mantra? Oh yeah – there's always next year.