Since I can't speak for beer, I let beer speak for me. Graciously, the beers concocted at Platform Beer Co. speak volumes, whether they're freshly poured into a snifter or sitting cozy in my tummy. Platform co-owner Paul Benner started as a homebrewer making five gallon batches at a time. That hobby quickly turned into a lifestyle, Benner admitted, often planning parts of his daily routine around the fermentation schedule of his various batches.
Before Platform Brewery was conceived, Benner quickly identified a need for a high quality, self-service homebrew shop and opened the Cleveland Brew Shop in 2012, situated on Lorain Ave. – directly across from the space Platform would later occupy.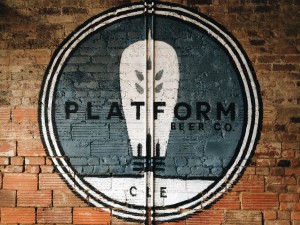 Platform's atmosphere – a west-coast style, beer focused tasting room – was one of the earliest branding aspects the brewery adopted.
"We didn't try to become a restaurant that's moonlighting as a brewery," Benner said. "We're a neighborhood bar. Right now I'm standing in the back of the brewery and I'm smelling everything that's going on, I'm visually seeing the process out in the open. There's no mistaking what we are when you walk in."
Once Platform started packaging their beer, Benner called the choice to use cans a no-brainer.
"We're into clean, simple designs that stand out because they don't have the excessive, crazy artwork that's become the trend," Benner said. "People have dug that. All of that branding is to tie together everything that we do."
Benner's goal to be the beer bar in Ohio is spurred on by 24 taps, eight to 12 of which are Platform offerings.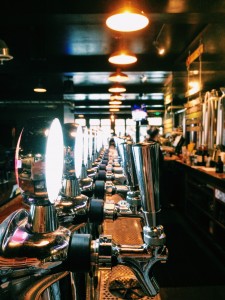 "Our guest lineup is made up of interesting, high-quality brews you won't see very often," Benner said. "If you're not going to drink a platform beer, you should definitely drink a beer you can't get anywhere else."
True to their name, the brewery's free incubator program offers applicants a literal platform to launch their own independent beer brewing business over the course of 12 weeks, complete with logos, business plans, legal counsel and other tools for the homebrewer interested in turning their hobby into a lifelong business.
One with lifelong customers, to be sure.