By Matt DeFaveri
My apartment might be on Euclid Avenue, but my home forever remains East Fourth Street (namely – shameless plug – the rustic and delicious Butcher and the Brewer).
Once a decrepit, shady alley rife with petty crime and unsavory transactions, this now-charming thoroughfare has been transformed by real estate developer MRN Ltd. into a bustling, thriving downtown hot spot replete with swanky restaurants, cocktail lounges and craft breweries. While the business owners and restaurateurs deserve credit for drawing crowds, Ari Maron & Co. deserve recognition for seeing opportunity where others saw squalor.
As a real estate company, MRN has limited power in terms of branding and marketing. Burgeoning cities like Cleveland don't tout individual properties as a main draw; they need neighborhoods to rally around. Thus, East Fourth Neighborhood was born under the MRN Ltd. umbrella.
Actually, search for "mrn ltd" on Google and the first hit in the results list is East Fourth Neighborhood's site. The site itself is pretty compact, featuring four primary tabs: "community partners," "live on fourth," "dining and entertainment" and "resident information." Each tab uses its screen real estate intelligibly, packing gobs of content into tiny spaces with the use of secondary tabs lining the left side of each page.
The site's also refreshingly self-contained: rarely does anything superfluously redirect to another page save for a lone link to the neighborhood's Twitter feed on the home page. There's also a button called "Explore the Area," which gives visitors an up close and personal map of the area's culinary, entertainment and residential offerings.
MRN's willingness to expand into properties off East Fourth – like the Lofts at Rosetta Center – has prevented the pigeonholing some feared would limit the real estate's prospects for the area. These "off-Fourth" properties still fall
under the Fourth Street Neighorhood moniker, signifying a level of acceptance that few brands can match. Little touches like the East Fourth discount card, which gives residents a percentage discount at bars and shops in the neighborhood, are an extremely appreciated gesture for those that make the East Fourth Neighborhood their home.
There are mixed feelings where the marketing's concerned. Save for a couple snapshots of packed outdoor patios and a gorgeous (albeit out-of-place) view of the lakefront, the promotional photos are a little campy and smack of overly-staged, amateur photography that does little to entice would-be visitors or residents. The slide show on the home
page resembles a distant friend's Facebook album of cobbled together "pix" from that one time they all got, like "soooo drunk" and "posed 4 dayz."
Graciously, the passing of House Bill 47 would make outdoor drinking legal, giving Clevelanders a non-patio option for slugging down the suds that made Cleveland the best beer city in America, according to the Huffington Post.
While the open container bill still needs senate approval, its passage means cities with a population of 50,000 or more can declare up to two half-mile "entertainment districts" as legal for public, open-container consumption.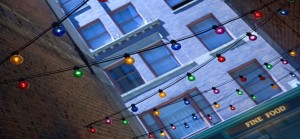 "This bill is really about economic development and bringing more business to different areas around the state," one of the bill's sponsors, Representative Bill Blessing (R-Colerain) said in a statement. "With all of the great things happening across Ohio in the coming years, like the 2015 MLB All-Star game and the Republican National Convention in 2016, this bill relieves some of the red tape these cities will go through to create outdoor refreshment areas for these specific events."
Read: go get snookered outside, you blaggards and miscreants. The world is truly your oyster.
Or a half mile stretch of it, anyway.
Photos sourced from www.east4thstreet.com.