Ice cream exists mainly for two reasons: to reward children for doing something good and as breakfast for twentysomethings flaunting their independence (and with all the bacon added to today's half pints, can you blame m—I mean, twentysomethings?)
It's no coincidence that as Cleveland undergoes its renaissance, ice cream parlors are popping up left and right. Ice cream is the ultimate feel-good food. When there's so much to feel good about in this town, savoring a pint of handcrafted frozen treats is the cherry on our succulent sundae.
Graciously, Cleveland is rife with local creameries passionate about their craft. For this month's Inside the Brand, we decided to focus on two. One is a local go-to for that special visit to an ice cream parlor and the other is a grocery store favorite.
Mitchell's
Founded by brothers Pete and Mike Mitchell in 1999, you'd be hard pressed to find a creamery more dedicated to Cleveland than Mitchell's.
"It means a lot to us to be able to contribute in a small way to the many positive things happening in Ohio City and other neighborhoods in Cleveland," said Pete Mitchell.

"We hope to be a place where Clevelanders can gather, have fun and create memories for their lifetime."
Mitchell's brand is a direct reflection of this goal. Walking into Mitchell's, you can't help but notice the signature train rolling around the ceiling mounted track, and the kids trying look up and watch without spilling their treat. Crayons and paper are all over and drawings are posted on the walls. The inviting brand features a bold Cleveland typeface, flat design and a crafty monogram that places a pink scoop of ice cream over the gap in the M to create a single scoop cone.
The bright colors are fun and playful, just how the owners believe eating ice cream should be! In the logo the separation of "Cleve" and "Land" also adds a playful touch and resonates with locals who refer to Cleveland as "the Land". This nod to locality is important as the general ice cream landscape is pretty saturated, and localization is still a strong trend as consumers care about supporting businesses in their communities and are becoming savvier when it comes to ingredient sourcing as well.
This concept is further capitalized on through the brand's messaging
"We handcraft our ice creams one small batch at a time, using local grass-fed dairy and fresh seasonal ingredients. We raise our cones to all that makes living in Cleveland a life-long adventure of progress and fun."
Notice words like "handcraft", "local", and "fresh". These are buzz words that help consumers create holistic ideas about brands. In this instance they cue readers that this is real people vs. unrelatable corporate owners, your neighbors vs. random factory workers in some foreign country, and fresh is becoming a key word to indicate healthier, not full of toxins like processed food items.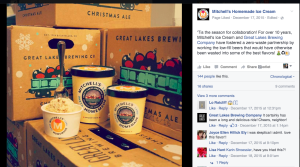 The Mitchell's brand reinforces the experience created in the stores and at home eating their ice cream. A Cleveland mainstay we look forward to more flavorful memories to come!
Graeter's
Graeters has a completely different look and feel then Mitchell's. As one of Ohio's oldest creameries, the tradition of making small batch, handcrafted delights has defined this brand since the roaring 20's when the use of old-world French Pot freezers help Graeter's stand apart from the mass produced ice cream competition. Still following this method today, Graeter's flavors are crafted two gallons at a time and packaged by hand.
Known in the market for long standing quality, they have a following that ignited its growth from one ice cream stand to its national reach today. Graeter's brand leads with a modern, simple design aesthetic but seamlessly pays homage to its past with retro elements that create the nostalgia of a 145+ year old creamery. The Graeter's logo is definitely from another era. Though it has been updated a couple times since its inception they worked really hard to maintain a similar look and feel when modernizing the logo.
Keeping this brand equity intact speaks to their credibility and length of time in the market. They walk this fine line throughout all of their marketing- how to maintain the past while still staying relevant and looking to the future. They place less of an emphasis on locality and more on history and consistency, which is a common transition when a company experiences that kind of growth.
An example of this, is the messaging prominently touts the hand crafted French pot method on the front of the packaging. This method has been used throughout the history of the company, and highlighting it so clearly, serves to reinforce credibility and draw on nostalgia. Nostalgia, is an incredibly powerful emotion, especially in food branding, that this brand heavily relies on.
In As You Like It, Shakespeare wrote,
"Can one desire too much of a good thing?" Today, we finally have an answer: no way, dude.
---
Love learning about Cleveland brands? Join our 30 Days of Branding newsletter where we'll deliver you a dose of branding each day.
Contributors: Matt Soble, Matt & Anne Brower, Matthew DeFaveri, Andria Kaplan