Jump inside the minds of our clients Jay Leitson and Izzy Schachner as we break down our latest branding project. With decades of restaurant experience under their belts we were super excited to bring their latest concept to life. 56 Kitchen is Solon's American Eatery with responsibly sourced food. Featuring an open layout, visible kitchen and community, makes diners feel more like guests at a dinner party than customers at a restaurant. The ingredients are fresh, responsibly sourced and always made from scratch. With 18 years of experience running Café 56 – a Cleveland eatery and catering staple – the quality and expertise is unmatched.
For 56 Kitchen, our overall strategy was to develop a brand that reflected the experience of being at a dinner party. We wanted the brand to emulate community, warmth and authenticity, similar to being in your friend's kitchen.  
The strategies we developed for this brand were:
1. Emphasis on transparency- One of the restaurant's coolest features is an open concept kitchen where diners can see in and watch the chef. We wanted to take this idea and reflect it in the branding as well. This concept anchors the brand voice, and is reflected heavily in the messaging.
2. Draw inspiration from French rustic design with a touch of the industrial feel- To do this, we incorporated natural woods, steel, white washes and brick paired with an inviting open floor plan. The natural elements mirror the business strategy of using ingredients that are local and sustainable. The color palette will match the theme; natural, organic, raw.
3. Lead with taste- We want 56 Kitchen to be known for the atmosphere, freshness, but most importantly the taste. The messaging we developed prioritizes this, and promotes 56 Kitchen as Solon's gateway to well-sourced and delicious lunches and dinners.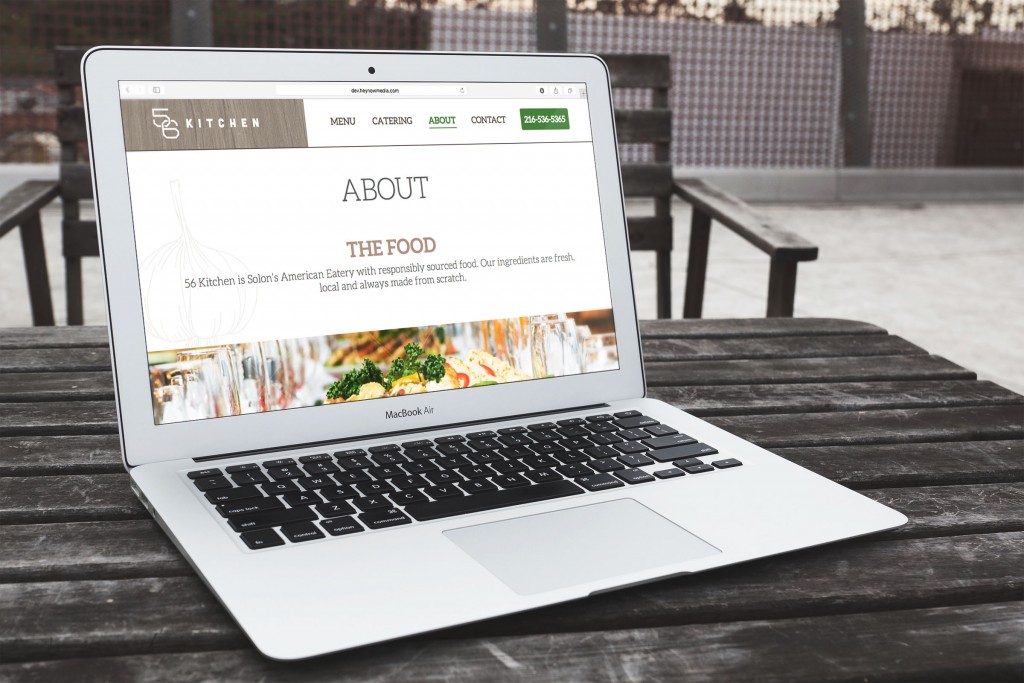 4. Clarify tag line- Because the name is referring to both catering and a restaurant, we wanted to make sure the tag line reflected the food and didn't put them in a box in terms of the offerings. To do this, we decided to refer to 56 Kitchen as "An American Eatery," rather than calling it a restaurant, bistro or cafe.
As you navigate through the final pieces we created for the brand it's easy to see these strategies reflected throughout. From the vibe to the rustic but modern feel of the design, 56 Kitchen is branded and ready. Are you hungry yet?