Let's face it, the COVID-19 pandemic has been arguably very hard on small businesses. However, this is not the time to slow down on gaining new leads and revenue streams. Many businesses have found creative ways to survive and thrive during these tough times. If we've learned one thing, it's that now is the perfect opportunity to focus on transformation and repositioning your strategy.
Due to the current climate of the world, there have been many changes such as:
Search Traffic Increases: With all the uncertainty, this is to be expected – and utilized.

Social Media Traffic Increases: A lot is going on in the world, companies are using this as a springboard to increase post traffic.
Cost Per Impression is Down: The ability to use your budget to put your message in front of consumers is lower.
Consumers are Watching How Companies React: There is a magnifying glass on how companies are treating their employees, helping the community, supporting each other, using their purchasing power to make an impact, and more.
During COVID-19 we have seen many businesses try and move their products and make purchases available online. Whether that be online ordering or creating a direct to consumer product that avoids the whole retail model and allows you to go direct to market. E-Commerce is on the rise and not going anywhere.
If you have a product that can potentially be sold online now is a great time to consider what those products are and thinking about an e-commerce website to house that product. After you have made the shift, you must now begin to focus on marketing. This can include content marketing, paid advertising, and emails, or all three! This content should drive traffic to those E-commerce pages.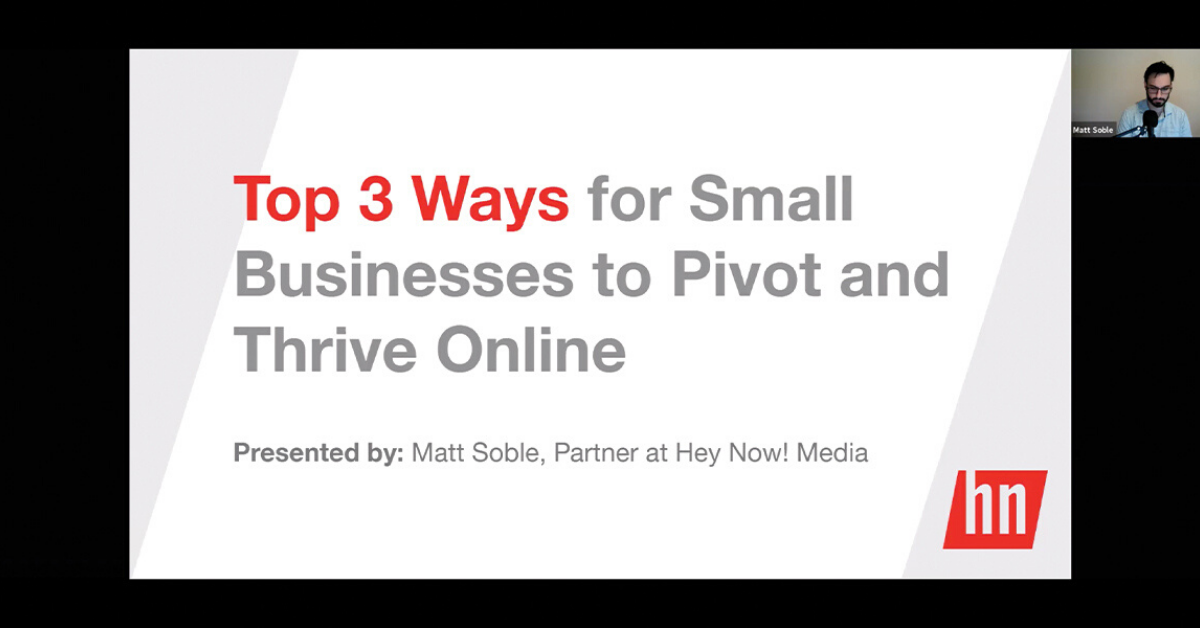 Want to learn more about how businesses are transforming online during COVID-19 to generate new leads and revenue streams online?
Download our newest webinar "Top 3 Ways for a Small Business to Pivot and Thrive Online" using the form below and also keep up to date with the rest of the additions to our webinar series!
{{cta('2fcc2f41-61c9-4aee-b0f2-7e0a45daa649′,'justifycenter')}}