by Matt DeFaveri
April 24 marked the start of the second annual Startup Vikes competition, a program hosted by Cleveland State University that gives participants one weekend to start their own business and an opportunity to win up to $2,500 to bring their business to life.
"It's admirable of CSU to host events like this for our community," said Irwan Awalludin, Art Director for Hey Now! Media, one of the event sponsors. "It's great CSU is helping rejuvenate Cleveland, fostering ideas and encouraging small business development. It's also a neat way for us as a creative agency to play a role in the development of this city."
Awalludin was one of several mentors on hand throughout the weekend, including Hey Now! owners Matt Brower and Anne Brower and Hey Now! Writer Matt DeFaveri. Each mentor helped budding entrepreneurs with different aspects of their branding, including copywriting, brand strategy, graphics and overall presentation content.
"I was directly involved in helping everyone figure out the details of their business, but my focus was on logo design and presentations," Awalludin said. "It was the first time for a lot of these people dealing with graphic designers on a professional level, but they can take the skills learned from communicating with me and use those to work with future designers, investors or customers."
Friday served more as a discovery process, as attendees researched and planned their initial pitch. Following Saturday's first round of presentations, the field was narrowed down to 12 teams, with six competing in the "business" category and six in the "social engagement" category. Mentors spent Saturday afternoon and evening creating copy and logos, tweaking along the way as ideas were changed or even scrapped altogether.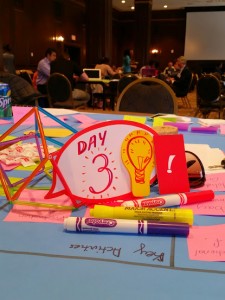 By Saturday night, brand new logos were designed for nine startups, while seven startups received new taglines, slogans, message maps and, in some cases, new company names. Sunday morning was crunch time. Presentations were finalized and pitches were practiced and perfected as the entrepreneurs steeled their nerves. It was a mad dash to the finish line, but every team wrapped the marathon weekend strong. Below are the winners from this year's competition.
1st Place – $2,500 – Coffee Drop / Bind
2nd Place – $2,000 – Sure Votes
3rd Place – $1,500 – Studio Stick
4th Place – $1,000 – Global Society Guide
5th Place – $500 – Puppy Match
Congratulations winners! Special thanks to CSU for having us as a sponsor for this year's event. We all can't wait to come back next year!
Be sure to check out Awalludin's speedy logo work in the gallery below!