By: Matt DeFaveri
Things aren't always what they appear to be.
That was certainly the case at this year's TEDxClevelandStateUniversity, where the theme Made You Look challenged audience members to see past their first impressions and dive deeper into the evening's presentations. This year's speakers triumphed over genetic heart disease; reimagined abandoned homes as interactive, animated displays; decoded the language of dogs; even proposed increasing tree canopies to create a thriving Cleveland.
Building on the success of last year's nascent TEDx event, themed The Right to Dream, more than 800 CSU students, faculty, staff and TED fans engaged in a day-long journey complete with interactive events and presentations. The "upcycling" table, sponsored by Cleveland-based Upcycle Parts Shop, saw heavy usage, offering guests an opportunity to create and decorate festive masks using a year's worth of scrap material destined for a Cleveland junkyard.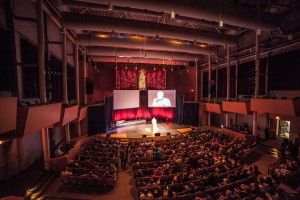 "TED events are about creativity and imagining new possibilities," said CSU employee Gayle Kish, putting the finishing touches on a stylish, vintage-inspired Halloween mask. "We're creating value from trash, basically."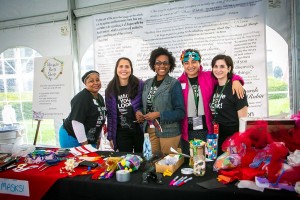 Brent Shelley, president of Minds Matter Cleveland, a not-for-profit that aids low-income high school students in achieving collegiate success, lauded CSU's knack for building on its positive image through events like TEDx.
"This has been a great opportunity to see more of Cleveland State and all the great stuff that they're doing and how it's integrating with the Cleveland community," Shelley said. "These speakers today have some really exciting things to say about our city." Shelley also praised the branding materials on display throughout the evening, designed and provided by Hey Now! Media.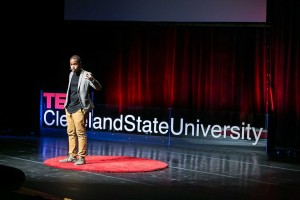 "The marketing materials here are really solid and pair well with this year's 'Made You Look' theme," Shelley said. "Everything is eye-catching, striking, unique. It really brings out the character of the series, the community and the university."
In many ways, Cleveland is a "made you look" kind of town, one constantly challenging perceptions of uninformed city purists that still see Cleveland – mistakenly – as the "mistake by the lake." A booming brewery movement, innovative dining experiences and events like TEDxClevelandStateUniversity have helped put Cleveland on the map in recent years.
In fact, events like TEDx are the perfect way to involve a diverse crowd in both city culture and university life, said Colette Hart, senior director or outreach and engagement at CSU.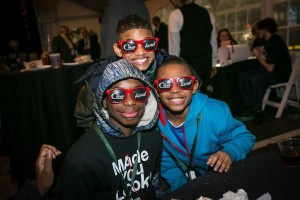 "Based on where we are in the world today, to be able to have stories that challenge our perceptions and, more importantly, to provide opportunities for us to engage in discussion and encourage us to think in a different way, we need more of that on a daily basis," said Hart, who credits part of this year's TEDx success to the university's partnership with Hey Now! Media.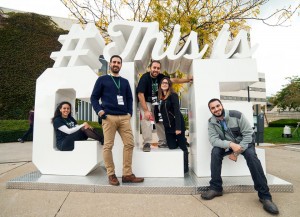 "We are so proud and excited to partner with Hey Now! for a second year," Hart said. "Hey Now! is more than a design and communication partner. They really are a strategic partner that's worked with us all along the way. They're part of our team. We feel really fortunate to work with them and to be able to bring an external talent that allows us to continually challenge ourselves and make sure that we're working at the highest level possible."
The entire day, much like the upcycle table, boiled down to one's perception of it. Pipe cleaners twisted into eyeglasses. Animal joints mimicked by robots. Some see a perfect recreation of a horse's leg; others see a cold, metal structure unable to emulate nature. In a world where perception is reality, who can say otherwise?
Just about everyone, actually.
---
To learn more about the theme, design and conceptualization of this year's event click here.