By: Matt DeFaveri
Water is wet, outer space is big and nothing in life is certain except death and taxes. Also, your favorite restaurant owns an account on at least one major social media platform. These are universal truths.
Despite the proliferation of social media in the culinary world, not all Twitter feeds are created equal. What can be a powerful tool for increasing customer engagement is little more than an item on a checklist for some. Each tweet, post or picture should accomplish one of three things: humanize yourself, build your brand or fill your customer's calendars. Consequently, certain platforms are better than others at achieving a particular goal.
In matching the town's culinary prowess, Cleveland, named the seventh best food city in America by TIME.com this year, has proven its restaurants' social media mettle. Hey Now! Media looked at the tweets, posts and images of Cleveland's restaurant scene as a whole, judging their efficacy in one of the three areas.
Build your brand
Despite being every hipster's and amateur photographer's paradise, Instagram is an excellent way to show your restaurant has style. If there's one platform to prove your bar has a "thing," Instagram is it.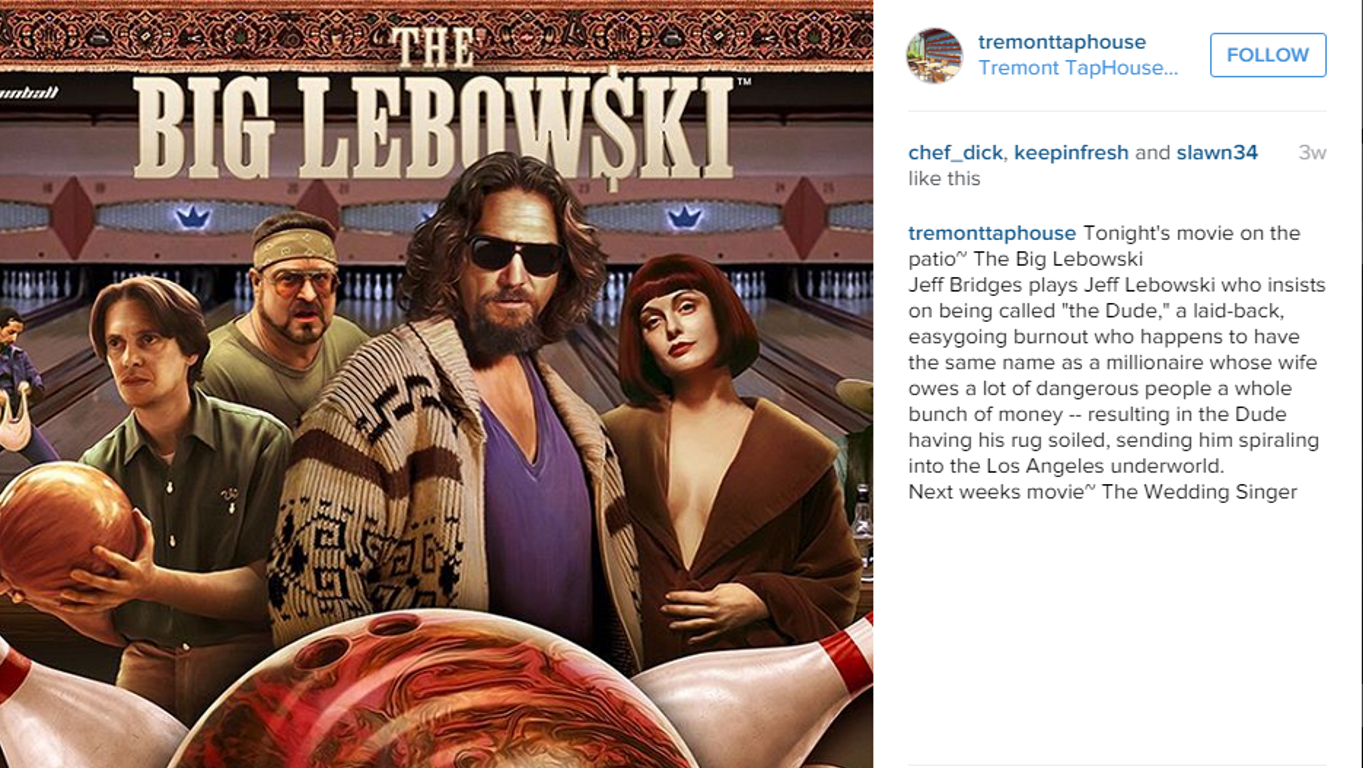 Take Tremont Tap House – with a post history of just six months, their Instagram account is in its infancy, but their following is strong. Since the brewpub's fifth post – a still image of Johnny Depp and co-star Allison Vernon-Williams from the movie Cry Baby – the movie-night-on-the-patio motif has become a mainstay on their Instagram feed. Tremont Tap House has become known by followers not just for an exhaustive draft list but also for weekly patio movie nights.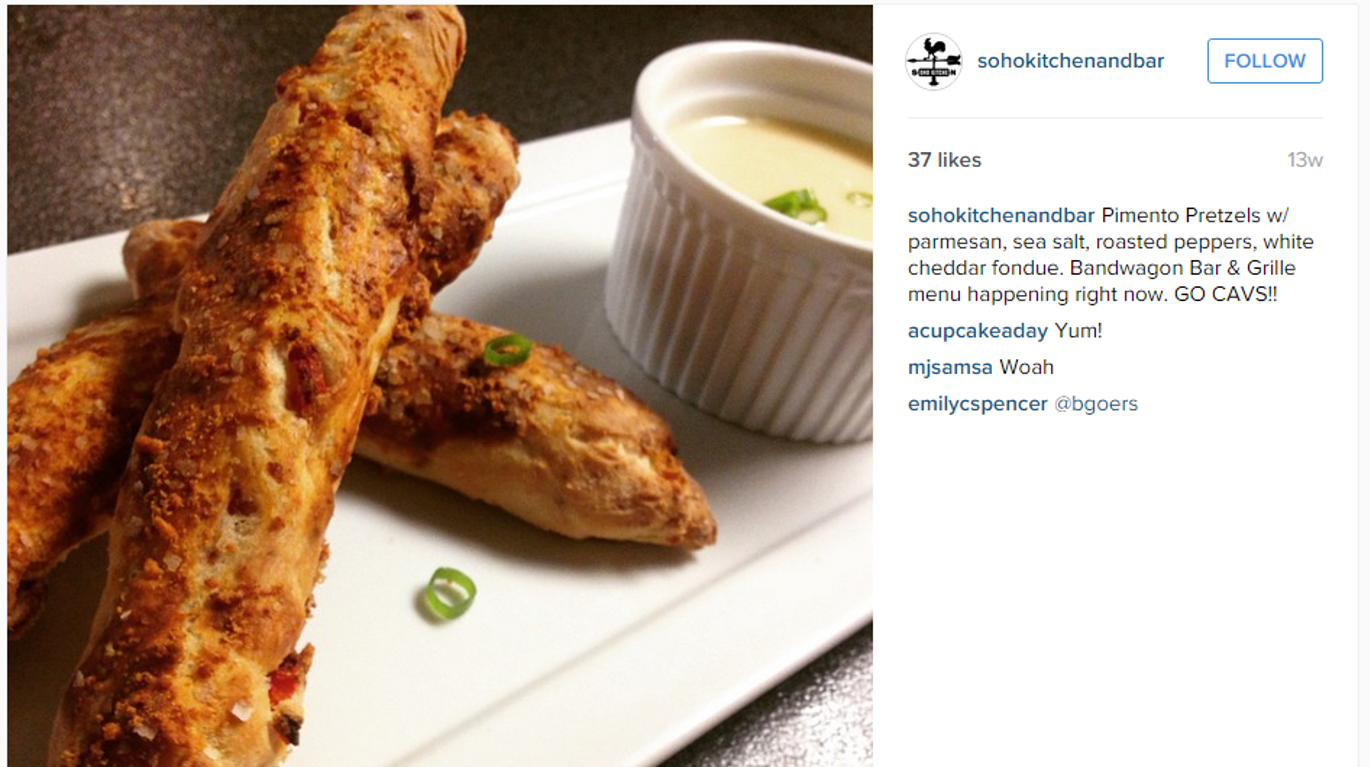 Resembling more Foodstagram than Instagram, Ohio City's SOHO Kitchen & Bar's posts are chock full of food flair and tantalizing scenes of homemade comfort foods. These elements give SOHO a sexy aesthetic most eateries would die for. I've never had pimento pretzel sticks with Parmesan and sea salt, but I would bask in the warmth and comfort of their radiant, carb-loaded luster all day long.
Rounding out the brand building blocks is Toast, a hip wine bar with carefully crafted cocktails and a modern edibles menu. Toast's Instagram looks and reads like one massive spread in Food & Wine magazine, showing off duos of Dijon- and coffee-brined eggs destined for a charcuterie board, hand-ground pork burger patties and delicate, barrel-aged liquors begging to be swilled and swished by a trendy mixologist.
Humanize yourself
If you're out to prove your business has a soul, you have two choices: make a deal with the devil or make a Facebook page. Since the former would probably defeat the purpose, the latter's your best bet.
Our friends are on Facebook (at least mine would be, if I had any). We maintain that association when we see posts from our favorite businesses in between updates from family, co-workers and old acquaintances. If Instagram speaks in style, Facebook talks in colloquialisms.
The Willeyville, one of first restaurants that opened as part of the 2013 Flats east bank renovations, has garnered more than 1,200 likes through charming posts about their chefs, specials and neighborhood news. Similarly, Tremont-based Edison's Pub posts relevant Simpsons memes, happy holiday wishes and special beer release notices to the tune of almost 3,600 likes.
Ideally, your customers create content for you. While crowd sourcing your Facebook atmosphere is a challenging proposition, it pays off in droves once you build a loyal following. Wonton Gourmet and BBQ, a charming downtown Cleveland gem, is home to some of the best and most authentic Chinese cuisine this side of the Pacific. While only earning 194 likes, the eatery's wall receives near-daily updates from dedicated diners peppering it with check-ins, food photos and compliments. Serving quality food seems to be enough to inspire a Facebook following, with Wonton Gourmet touting a 4.5 average rating (out of 5 stars) from 52 reviewers.
Johnny's Little Bar in Cleveland's Warehouse District also reaps the benefits of a rabidly loyal clientele, boasting multiple patron-sourced posts per day and 125 user reviews averaging 4.4 stars. Customer posts range from regulars frequenting their favorite neighborhood spot to first-time skeptics ready to tackle Johnny's famous half-pound burgers.
Fill your customers' calendars
With so many outside sources competing for our attention, our preference for planning has trended toward simplicity. We like seeing suggestions. As creepy as it may be seeing Amazon or Google suggest a product or page for us, that's really the basis of marketing: place a meaningful, attractive product in front of someone and they'll be more likely to buy it than not.
Restaurants operate on the same premise when they plug events, promote dishes and market menus. Twitter is the perfect platform to deliver those messages in easily digestible chunks to an audience that, by following you, has already proven to like your product. It's like one giant opt-in email list with an absurdly high open rate.
In its four years since opening, Bottlehouse Brewery has only gathered 615 followers on Twitter through folksy, conversational tweets about bingo trivia nights and home brewing. Still, those numbers don't tell the whole story.
Attention homebrewers, we have used 22oz bombers to give away! Come on up to the bar during normal hours and grab… http://t.co/3qIi7rFZbw

— The BottleHouse (@BottleHouse1) August 4, 2015
Come hang out tonight for Bottlehouse Bingo at 8pm. Bingo with a trivia twist. Win baseball tees, flights, mead glasses and more…

— The BottleHouse (@BottleHouse1) July 23, 2015
The brewery's 5,387 likes on Facebook is a good indication that their target audience isn't on Twitter, and given the large gap in numbers between the two platforms Bottlehouse's Twitter followers are most likely dedicated patrons looking to get their Bottlehouse fix wherever they can. Meaningful followers are the most valuable Twitter resource there is when talking about social media success.
While it may be difficult to define "food porn" intelligibly, I know it when I see it. Much to the chagrin of no one, Tremont-based Lolita's Twitter fits that bill in the best way possible.
45 day, 48 oz dry aged bone in ribeye. #lolitatremont #meat #onfleek #oldmeattastesgood @chefsymon pic.twitter.com/VuKaLJfaqP

— LolitaTremont (@LolitaTremont) April 24, 2015
Despite owner Michael Symon's celebrity status, he seems to stay current on the goings-on at his popular eateries, tweeting from his personal account at @LolaBistro (on East 4th) and @LolitaTremont about newly revamped menus and engaging with customers raving about Lolita's culinary excellence.
Happy Hour Local Pork Belly Sandwich @chefsymon pic.twitter.com/q5vzjpGnjR

— LolitaTremont (@LolitaTremont) June 4, 2015
The Big Bang, a dueling pianos bar that recently opened as part of the Flats renovations, took to Twitter on June 8 and hasn't looked back. With a racy handle, @bangcleveland has capitalized on the excitement of the Flats' resurgence and translated it into a multi-layered Twitter experience. Video clips, early-state build updates and pictures abound on their feed. Small details, like tweets appreciating a gorgeous Cleveland sunset, show that community pride is something The Big Bang and Clevelanders share.
Did anybody else catch that sunset?!?! Wow. Another reason to love CLE. pic.twitter.com/qOxyo1EVmx

— Big Bang Cleveland (@bangcleveland) July 22, 2015
—
A passing suggestion in a tweet or a warm invite on Facebook is enough to convince most customers to commit to a plan. By baking an invite into a platform that customers already frequent, you create a natural, non-invasive system for marketing to your audience. With so many delicious restaurants clamoring for our attention, our dollars and our taste buds, it's safe to say this is consumer bliss.
Please be seated and enjoy the ride.