When a worldwide pandemic hits what do we do? SHIFT! Whether it's a global recession, an issue with production and materials or massive technology changes, we believe that businesses in any generation only survive if they place a premium on agility and forward thinking.
The following is a case study on how we helped Zoom Express, a local car wash business in Northeast Ohio, switch gears to not only survive during the COVID-19 pandemic — but thrive.
What Problem Was the Client Facing?
At the beginning, it was unclear if Zoom Express would be deemed an essential business and some communities ordered sites to close down. During the first round of reopening, there was a lot of confusion from the state on whether they would be able to reopen. This caused their locations to reopen and have to close again multiple times, which created a major communication issue between Zoom and its customers.
Not only did everyone need to be made aware of the reopening and closing changes, but when Zoom was finally able to stay open customers needed to feel comfortable returning knowing extra safety precautions had been put in place. Zoom needed Hey Now! Media to help calm this storm and keep their customers in the loop.
Even with all of this going on, Zoom Express still wanted to give back to the community and show their support for first responders.You'll see below how we helped drive amazing results!
What Did We Do to Help Them?
Updating Customers: Zoom provided us with the COVID-19 precautions they were taking, and we blasted these measures across their social media, paid ads, emails, and website. Whenever a customer had a question on how they would be handling a certain part of the reopening, we were on it with a quick response in their comments, messages, or emails. This clear and consistent communication went a long way to calm customer fears.
Free Washes for First Responders: We were SO excited to be able to work on the marketing efforts of this project. Zoom Express decided they wanted to give out free washes to first responders, so we extensively promoted this deal to individuals in all five locations using organic social, paid ads, and emails. This went over so well – they ended up giving out 2,551 FREE WASHES across all of their stores.
Organic Social + Email Example: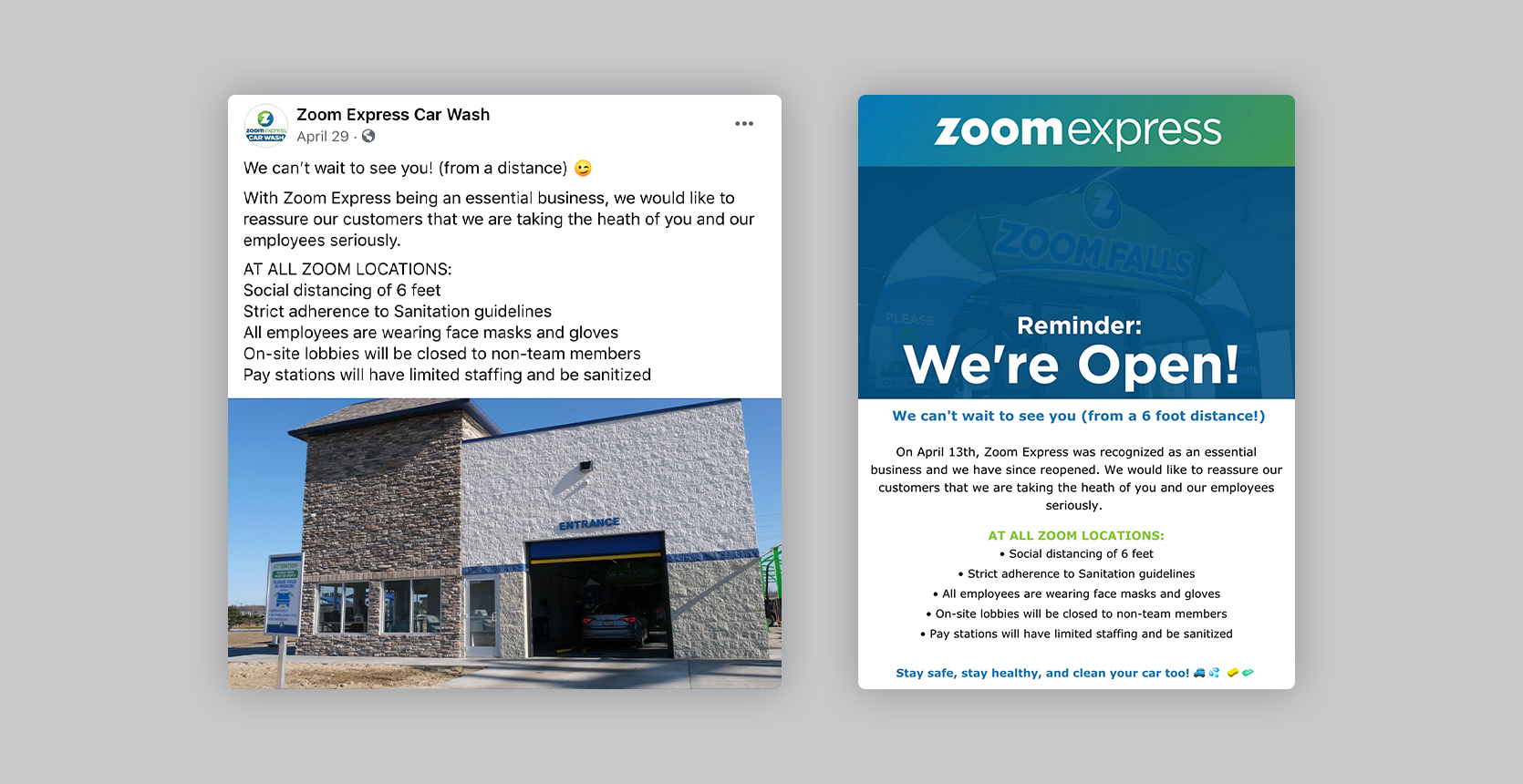 Paid Ad Example: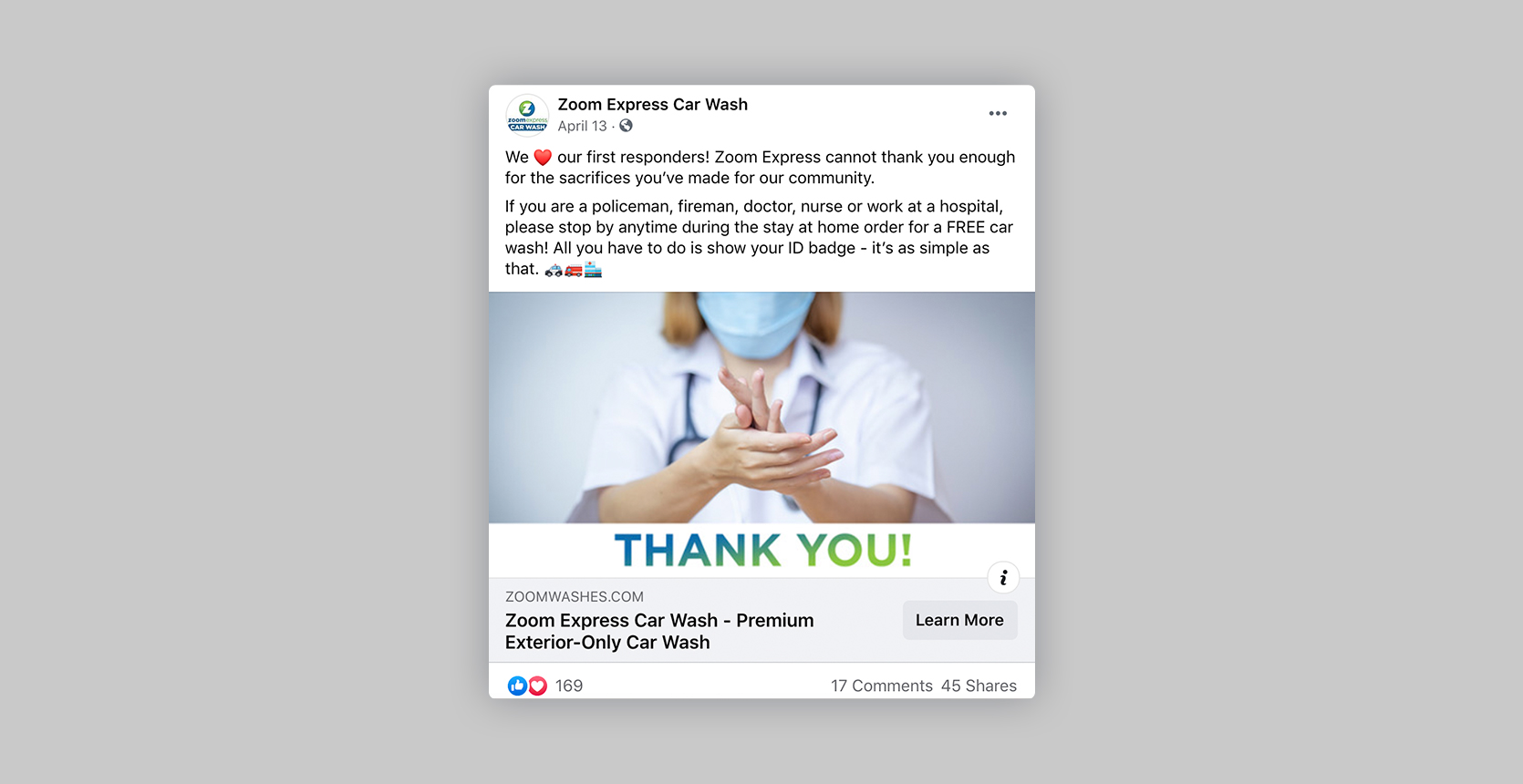 Organic Social + Email Example: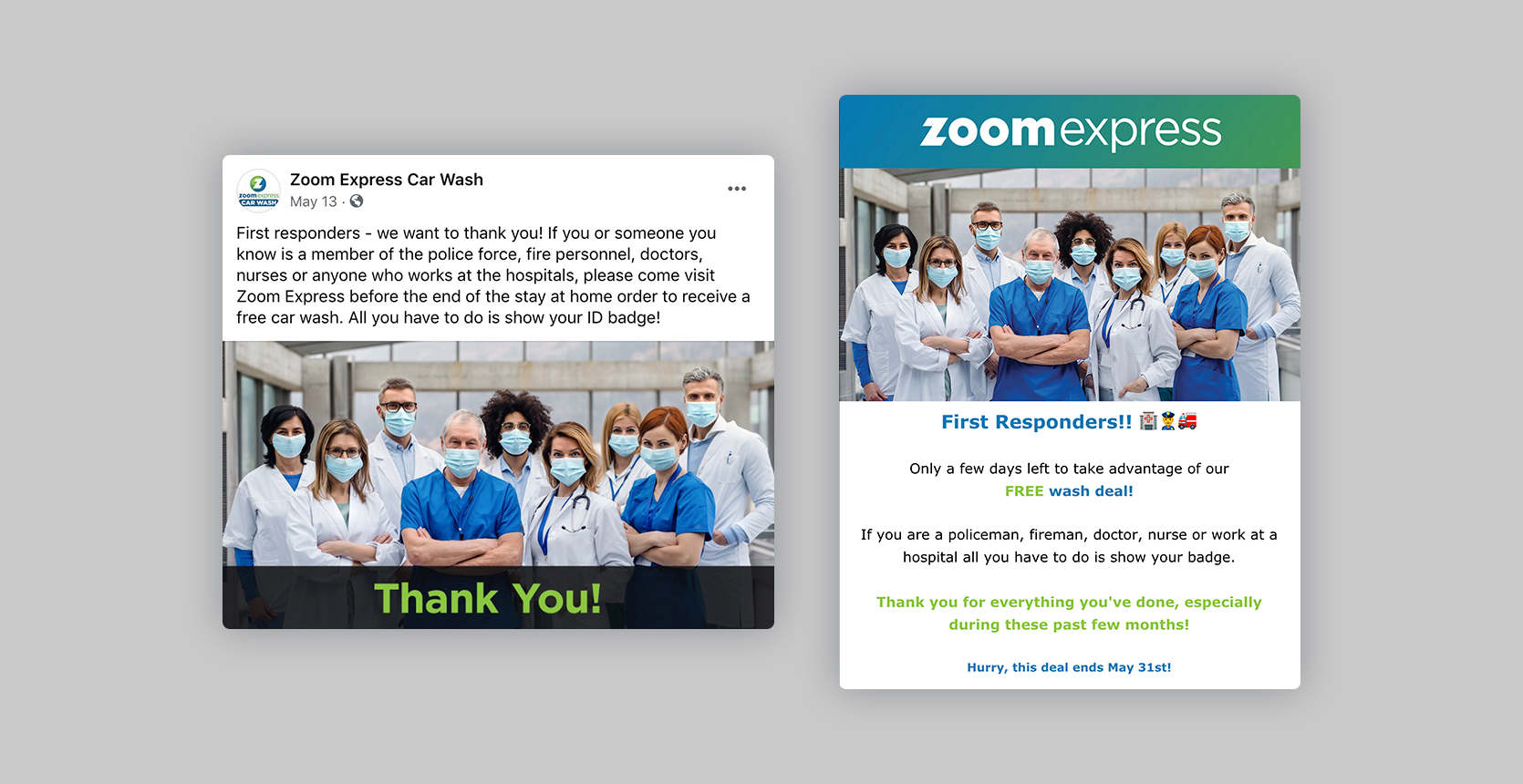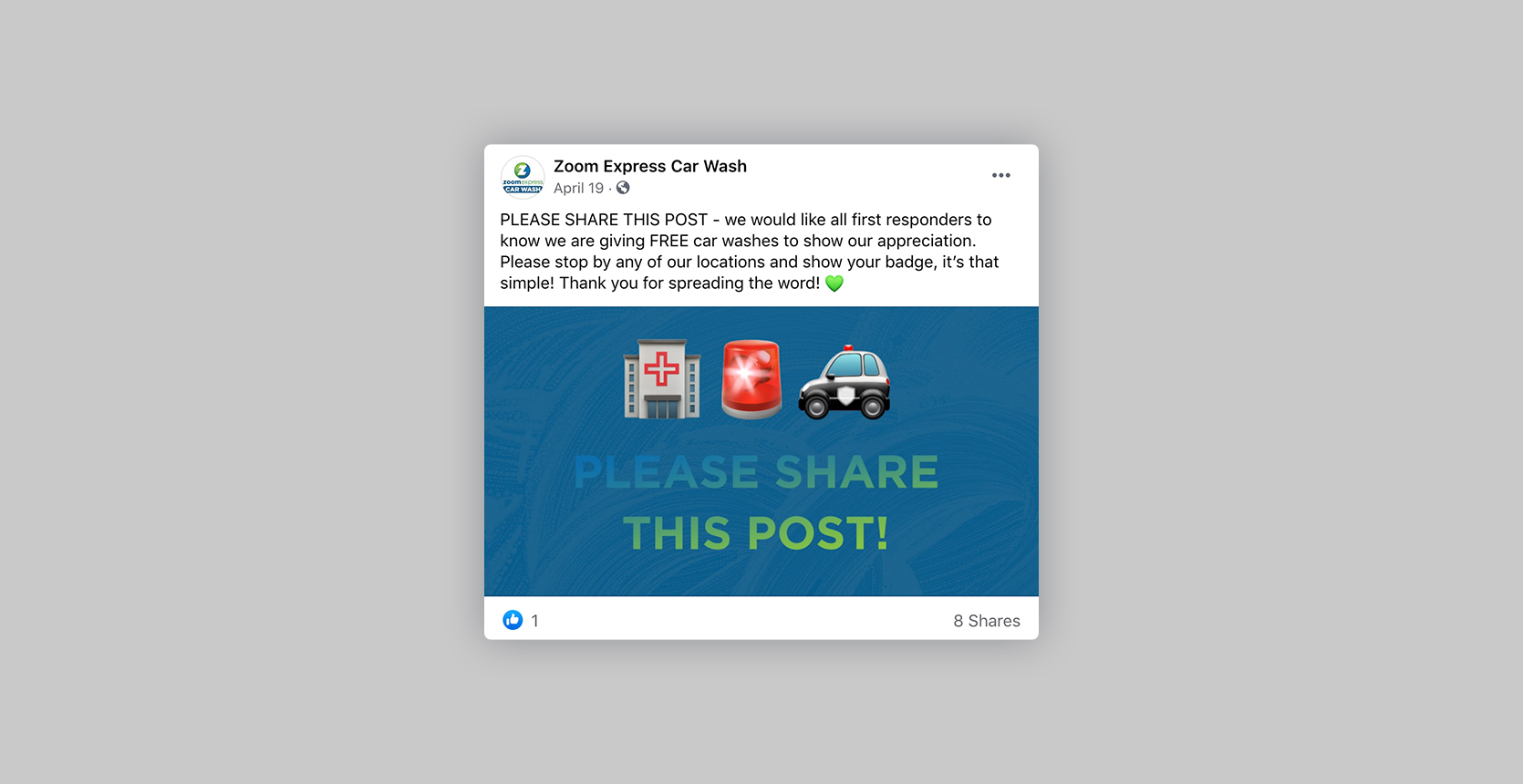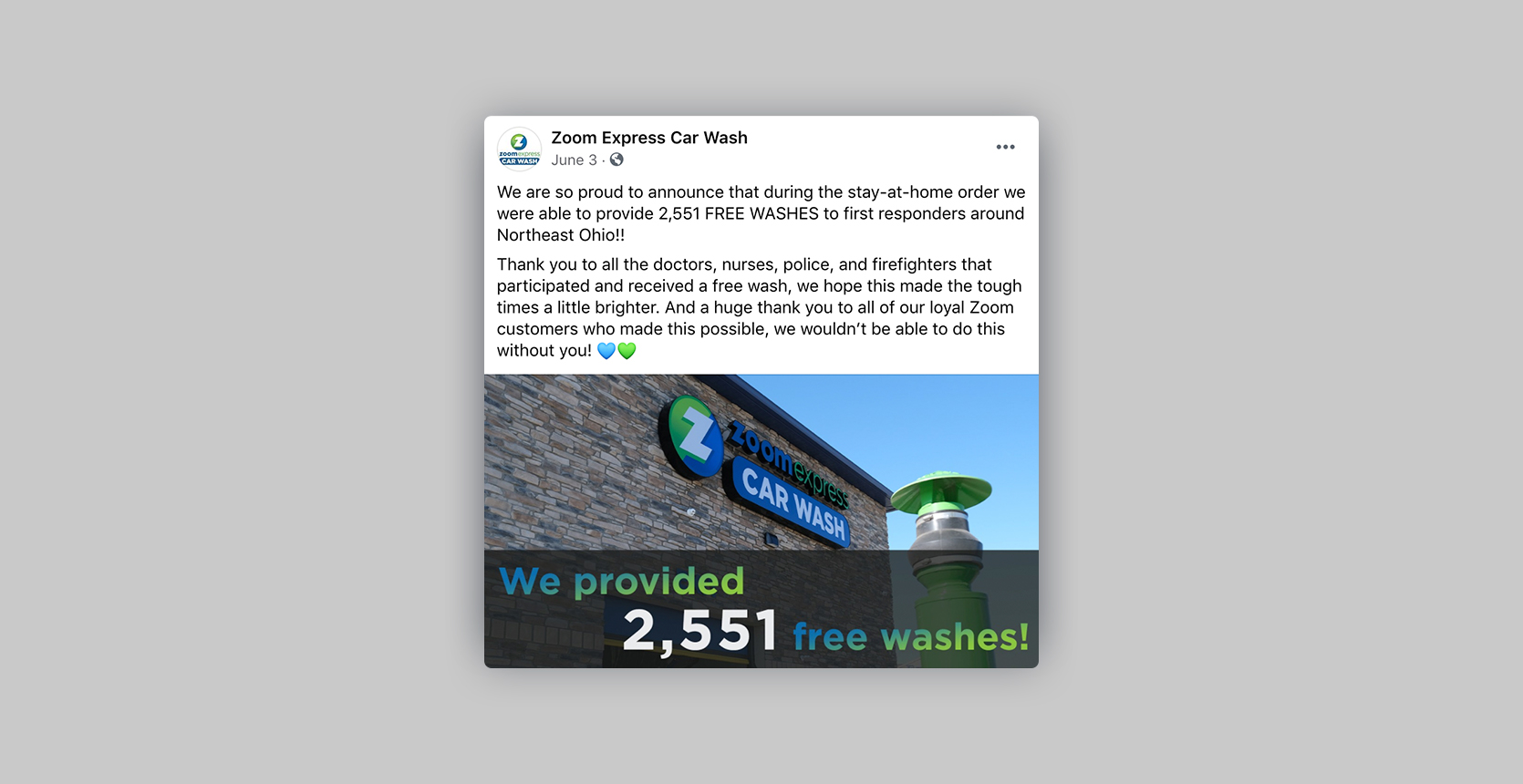 ---
What Were the Results?
Despite the opening and reopening confusion COVID-19 orders caused their business, during the pandemic from March to July, Zoom got:
2,057 New Coupon Club Members
2,900 New FastPass Members
Additionally, Zoom was able to give a little something special to 2,551 local essential workers who were risking their lives during the pandemic.
---