You aren't the only one trying to stand out these days! Rest assured even giant brands are doing everything they can to clear the clutter and get noticed, and it's not easy. Lately it seems like "extreme" is the name of the game! From Columbia Sportswear's new $50 million ad campaign to Arby's "Meat Bus" Tour, to Allstate's latest brush with mayhem, sending an actual car through a shredder on Saturday's SEC championship game.
It seems that lately everyone is looking for bigger and crazier ways to draw attention to their brand. Let's dissect a minute though, because all of the extremity is not created equal.
All three brands have made sure that these essentially marketing supported PR stunts, represent the brand. Here are some highlights:
WINNING THE EXTREME THING
Columbia has hired 2 new employee's that will work for the company for 6 months as the "Directors of Toughness", traveling the globe to harsh conditions in what else but Columbia gear and blogging, social media-ing, and youtube-ing their experiences.
Take-a-way: We see you Columbia, and we'll raise you a ski season. I'm definitely taking a closer and more interested look. Read more here.
IN THE MIDDLE OF THE EXTREME THING
Two years ago Arby's took a new route with their marketing introducing the tagline "We have the meats." This line ushered in a new approach for Arby's as they put the focus on the meat and continue to curate a bold, humorous, and tongue-in-cheek voice for the once suffering brand. The latest idea, announcing the opening of a Time Square store with a "meats of Manhattan" tour is completely ridiculous to me. They claim they are "inspired" by the great meats of Katz's Deli, Ottomanelli's, and other iconic centuries old shops. Reading between the lines, the trend towards local has large scale international brands looking to capitalize on the success of small local mom and pop's.
Take-a-way: Don't be fooled. Arby's does not suddenly taste like month long cured Katz's corned beef. Read more here.
FAILING THE EXTREME THING
Allstate's #MayhemTweetOff is sure garnering a lot of attention, but is it translating to anything other than drunken college football fans watching their rival's get publicly shamed? At Saturday's SEC Championship Game, Allstate is culminating it's month long shenanigans that included things like popping an Arizona State branded confetti-filled balloon, and exploding a peach after Georgia Tech fans were outvoted. Britt Nolan, creative director at Leo Burnett said "This idea was to really give fans a way to prove which team has better fans in a very tangible way." To that I say "why?" Why is it a part of Allstate's goals to do this? They are capping things off with sending a car with the opposing team's logo on it through a giant shredder, and shredding it, live.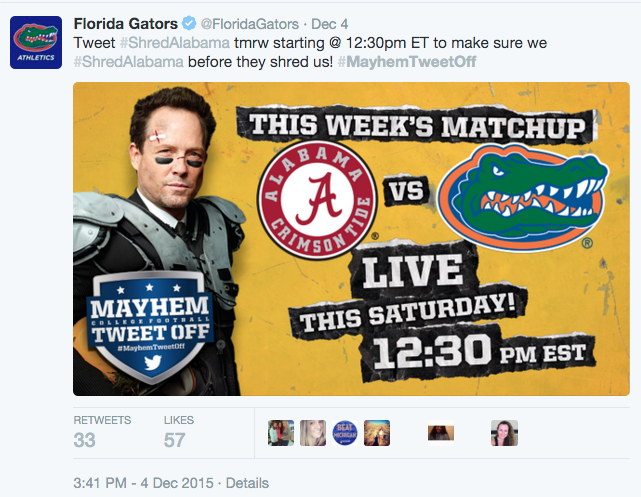 Take-a-way: If you're going invest in large scale PR stunts have an end goal and a strategy for after the fact. This just seems to be spinning its wheels. Read more here.
In conclusion, going extreme can mean lots of attention, shares on social, and tons of reach and clicks, but if you aren't positioned properly or garnering this attention from an audience that cares about your products/services it's all just a giant, super creative and fun, waste of time.